How to get to Rethymnon and hotel ARIADNE
Access to Crete and Rethymnon can be done by plane or by ferry through Heraklion or Chania.
 The distance of the hotel from the two airports is about the same (80 km from Heraklion and 78 from Chania). The distance from the  port of Heraklion is also 80 km and from  Chania (Souda), is about 60 km.
 By boat
If you want to travel by boat from Piraeus to Crete,  you have to ask about timetable  and  ticket prices in the addresses  www.minoan.gr  and www.anek.gr
When the boat arrives to the ports, regular buses are waiting   to connect the ports with Rethymnon town.
There is daily ferry connection between Piraeus  and the two ports of Crete,  Heraklion and Chania (Souda).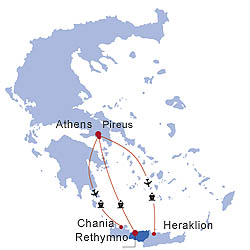 By plane,
You can get information about regular flights for Cretan airports from Greece or abroad , in the addresses of  that  companies :
www.aegeanair.gr
www.aegeanair.com
www.skyexpress.gr
www.ryanair.com
www.easyjet.com
For your access from Cretan airports to ARIADNE hotel, you can use a taxi or you can rent a car.  ARIADNE hotel can give you the solution for both in special prices,  upon request  in the mail of the hotel info@ariadne.gr  .  We will answer to you and we will give the best solution.
Also, the air link with Greek  and European airports is continuous with regular and charter flights.
The sandy beach of Platanias, welcomes you with views of the town of Rethymno and the deep blue of the Sea of Crete. It follows the coast of the town, stretching 13 km along the east, to Scaletta. It is organized with lifeguards, water sports, sunbeds/umbrellas, changing rooms / showers, café, snack-bar/restaurant etc. It is 150 meters from the hotel, just a 2 minute walk on a pedestrian walkway under beautiful palm trees to the beach.
There is bus service for  the city of Rethymnon from early  in the morning until after midnight. Bus stop is 150 meters from the hotel entrance. Our staff will give you all information and the time table of the routes. The distance from the hotel to the middle of the town is about 5 kms and duration less than 15 minutes.
There is taxi rank in an organized network of Radio Taxi ready to serve any of your travel needs to and from your hotel or other destinations.  You can ask hotel reception for your moves with a taxi.
There are local tourist offices for trekking, mountaineering, trips by train, tourist bus, jeep safari, or car rental to popular destinations in Crete like Arkadi, Samaria Gorge, Gramvoussa, Elafonisi, Phaistos, Matala, Knossos, Aquarium, Spinalonga etc. but also for day cruises on yachts to north or south beaches, nearby islands such as Crete, Gavdos, Dia, Chrissi etc. Also you can find a lot of daily cruises to the famous and wonderful Santorini.
Around the vicinity you can find super markets, shopping stores, souvenir, jewellery, leather goods and fur shops, restaurants, cafes, bars and nightclubs for your entertainment, ATM for banking transactions, Radio Taxi and rental car companies.
Long-distance Transportation
There is a long distance bus every 1 hour from the bus station of Rethymnon to Chania or Heraklion, to destinations near Rethymnon like Arkadi, Margarites, Anogia, Fragma Potamon, Amari, Vrisses Argyroupoli, and south to Plakias, Preveli, Spili or Kerame. To western destinations beyond the border of the prefecture of Rethymnon, like Samaria Gorge, Kastelli, Sfakia, Paleochora, east like Knossos, Aquarium, St. Nicholas or south to Agia Galini, Phaistos, Matala, etc., direct or indirect. Many of these transport services go through Platanias so you can use them.
There are several car rental companies around the hotel   which can give you the solution you want about the type of the car you need.